This blog will be a bit more wide-ranging and include
miscellaneous family members & special friends & places,
When I saw this posted on Face Book, I just had to copy it.
No... this structure is not found anywhere in Africa.
It is a huge 400+ yr old Spanish fort in St. Augustine, Florida.
Before my parents built a new home on the beach,
we lived near this fort and it was my own personal playground.
I thought every kid had one of these "play-houses" in their hometown.
My beautiful youngest daughter Jeanette, with two of my grandchildren.
Kaleb has become a proud Cub Scout, complete w/ face painting.
and Alyssa is my hero... born @ 24 weeks weighing 1lb 3oz.
She is now a happy, healthy & fiesty little girl!
(She inherited her mother's stubbornness...
and I have NO idea where her mother got it) :P
Pretty sure there are at least a couple of my five daughters who can relate to this!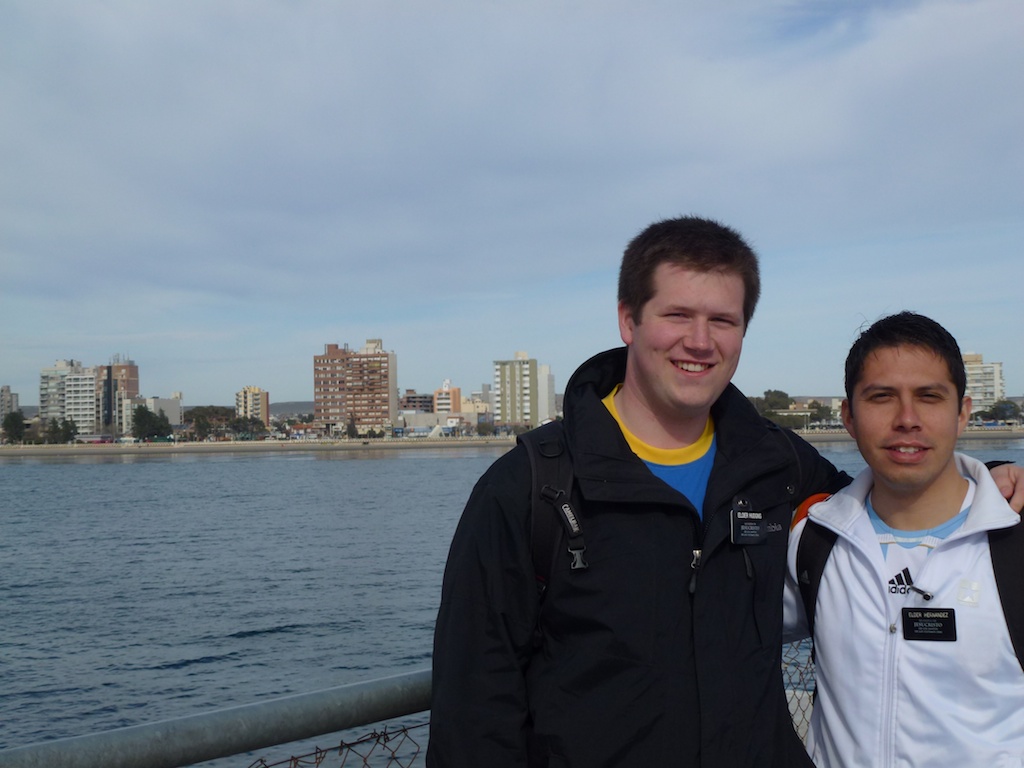 Grandson, Kyle, (left) had his birthday on Aug. 24..
He is serving a 2 yr. mission in southern Argentina.
This was taken with his companion on Preparation Day
during an outing to Puerto Madryn.
Sometimes the spouses don't get the recognition and credit they should.
This is Juli's husband, Art (left). He has a wonderful, ironic sense of humor
but, obviously, he's capable of being very serious
assisting in this "beating heart surgery".
The picture is part of a slide show & video produced by his hospital.
Daughter, Juli, is celebrating her birthday today (Sept. 18)
This is my favorite picture of Juli and me...
other than the ones taken on the day she was born
Juli's daughter, Amber, and her husband, Kurt, with just-turned
2 year old, Paxton. He loves tractors, so they took him
to ride on a big yellow & green John-Deere for his birthday.
Paxton's big brother, Kaden (middle) and nephew "D" (right)
also had birthdays & started kindergarten recently.
They are all growing so fast!
Some of the family members who have already
had b-days earlier this year did not get shown on the blog,
but I'll catch them on next year's go around.
Meanwhile, Jennifer & Nate's four have birthdays thru the rest of the year,
starting with McKay (2nd from left) today (Sept. 20)
This is the Bishop of our newly created ward, Bishop Aimé Ngoy.
We are so proud of him and all of our office staff.
With this call, we now have a Mission President (President Jameson),
a Stake President (Thierry Mutombo), a Bishop (Aimé Ngoy),
a High Priest Group Ldr (Pascal Lomboto), a Stake Exec. Secretary (Fils)
all serving in different stakes, but all working together in the office.
President Jameson's calling is full-time. T
he other's require many hours
on top of their jobs, family and other worthy endeavors,
such as getting a Bachelor Degree ( as Thierry did &
Pascal soon will).
Aime is also president of an English Club in Kinshasa...
They each are wonderful representatives of the Church in Africa.
From "Africa Future" with Aimé & others featured in prior blogs,
to this picture representing "Africa Past (and apparently, Present)".
This is a Medicine Man, wearing a ceremonial hat,
but with tennis shoes on his feet
and a Western jacket over his

traditional African clothes.
Can you figure out what he is holding?
YES, it is a shrunken head... and,
NO, I don't know if there's a law against it here.
Buru & Teddy are two of our favorite guards at our apartment building.
Because the building houses 3 floors of a US Gov't agency (USAID),
we get an engine check, an all around mirror-under-the-car check,
and swipes for explosive residue with every entry.
It's the same people which provide security for the US Embassy,
so we feel very safe when we come through the gate.
Each day we have all kinds of birds visit us, like this dove

,
because George puts crumbs out...
But he chases off the loud & haughty-acting magpies.
This large orange-headed lizard is also our pet.
He doesn't realize it, of course.
He comes every day to sun himself outside our sliding doors.
Since we have reflective glass, the animals can't see us
so we have a lot of fun observing them up close.
This is just a small section of our chapel grounds,
where the Kinshasa temple will be built.
Across the street is the new ShopRite store
we were all so excited about a few months ago.
Little did we dream that it would someday be a convenience
for members traveling from afar to attend the temple.
Last week, we left our apartment to go to the Mission Office...
the elevator door opened & this HUGE thing came flying right at me!
Yes, I screamed! Both George & I thought it was a large bat.
Fortunately, it was just an Africa-size moth, but it got my heart racing.
Can you see why we are given four-wheel drive Toyota trucks on this mission?
We'd all be happy if we only had potholes to deal with.
Most of the time, we have craters.
The picture was taken before we had some soaking rains,
so I would hate to see it now...
We have found it wise to be very careful driving into
an innocent shallow "lake" of water across any area
because you can easily get submerged in one of these holes.
Several months ago I was fascinated
by the interesting shapes & styles of bathroom fixtures.
This is yet a different style in another couple's bathroom...
This is a good example of the French flourish
seen in the Congo and certainly fits the description of a "Throne".
Our Gospel Doctrine teacher, Bob Koyondo.
It's a great calling and one I enjoyed in many different locations
for a total of about 18 yrs. But, I wish I'd ever been
as good
a teacher as he is.
"Roger" asked us to take his picture so that Elder & Sister Hatch
(mission now completed & comfortably settled in NM), could see him.
He is in our new ward choir and gave a well-prepared talk
in Sacrament Mtg. today. He'll make a good missionary.
This has GOT to win the "Pajama of the Week" award.
Somehow it reminds me of a can of Budweiser.
For all you Harry Potter fans, the White Peacock is not a myth.
We took the Larsens & the Moons to "Symphonie des Arts"
and enjoyed the roaming peacocks. On a previous visit here,
this guy was in the same spot on the roof, with feathers fanned,
but he was turned around, so we couldn't get a picture of him.
I can actually ♫"Talk with the animals"♫? Well, peacocks anyway.
It used to be so much fun getting them to answer me back in St. Augustine,
when driving by the Alligator Farm late at night

in my high school years.
I still do it, when we are there, much to the embarrassment of my children.
(These, at the Gallerie, answered me every time)
Did you know that the peacocks "shake their booty"
when they are strutting their stuff & showing off their feathers?
An exquisitely beautiful Congolese woman wearing the African style
dress with coordinating pants that is sometimes seen.
It almost seems to be a Chinese influenced style, but I don't know for sure.
When you are behind one of these "no-tailgate" trucks,
full of big rocks

precariously piled up,
you can't help but think about a bump in the road
causing one of them bouncing into your windshield.
Monkeys are notoriously mean-tempered, but this one really LOOKS it!
Sometimes you see a husband & wife wearing clothes made with the same fabric.
My heart goes out to the numerous people who are maimed, blind,
missing
arms or legs, or whose bodies are terribly crippled.
Many are men who have probably been injured in war.
Some are those who were not able to receive appropriate
medical care for injuries or diseases.
Our Humanitarian Couple, the Moons, have just received a shipment
of hundreds of wheelchairs which the Church sent in a container.
They have been turned over to the government department to be dispersed
to medical personnel trained to fit people to wheelchairs
and teach them how to use them properly.
George & I have personally seen some who have benefited by previous
wheelchair shipments from the Church. What a difference in their lives it made.
We are constantly amazed at the size and weight of things we see
being hauled along the streets by pousse-pousse & never tire of
capturing the latest example.
While we were waiting to get into the outside gate of our apartment,
this lady in bright pink stepped out of a taxi.
I accompanied George & Pascal one day to look at an apartment
for six young Sister Missionaries who were currently in a 1-bathroom place.
After previously contracting with the landlord to rent it after he had finished
renovating, it was discovered that he had made it quite too flamboyant.
In fact, it is so extravagant that we will get out when the 3 month contract is up.
Note the silver paint & gold painted faces on the heavy metal gate
The landlord is a local politician and that tells you
most of what you need to know about him.
He special-ordered this shower from France (I priced one today at $5,000)
It has water coming from every direction, inside lighting, radio & player, etc.
Since there are two other nice but normal bathrooms, we've locked this one
so there can be no chance to damage it before we vacate the apartment.
This picture was taken in the City Market grocery where we shop.
Out of sight to the right is a table filled with very good "Promotion" (sale) items.
As I approached the corner from the right, my head was turned to the table.
When I turned the cart to face this direction, it blocked my view
so I couldn't see the hole. The next thing I knew, the cart dropped down into it
and I was pulled behind it. No rope or warning anywhere for the shopper.
(I placed an empty cart on one side & a box on the other,
to protect other oblivious shoppers and went to find the manager!)
This would be a guaranteed law-suit waiting to happen...
IF it was in the US. But, this is Congo.
In a city of 10-14 Million, this was the only time we have seen
a fire truck with lights & siren on, actually going to a fire.
(You may recall that the only fire station we know of ,
which happens to be near our apartment, burned down last year.)
This is how most workers are transported... Standing or sitting crammed together,
with zero protection from weather or accidents.
I have been shopping in this grocery store since we arrived,
but JUST noticed these items on the shelf.
Can you guess what they are?
2nd Trip to the Bonobos... where we saw LOTS of them this time!
I decided to delete all the pics from the Bonobo Primate Preserve
and put them in next week.
But, this one won't "remove".
So, if it actually plays, it will be an appetizer for next week...
Elder & Sister Stagg (Dick & Suzanne) have completed their mission.
They were our upstairs neighbors & left within a few days of the Binghams (below).
They took us to the "Symphonie des Arts". It was our last outing with them.
They actually had family members meet them in Paris for 15 days on their way home.
While there, Elder Stagg was cruel enough to send a picture of a chocolate eclair
to President Jameson, (who also served a mission to France & loves chocolate).
A final farewell photo of our good friends, Elder & Sister Bingham,
who have completed their mission and returned home to Eureka, CA.,
where they are now known simply as Bob & Judy.
Judy is even sweeter than she looks &
Bob is
much friendlier
than he looks
(sometimes I just can't help it!) :)
They received the beautiful Congolese dress and shirt
as a surprise going-away gift
by some of the sisters
they helped train
in their Humanitarian Sewing project
.
Today, I received an email from her w/
a picture in her current choice..
a turtleneck & hoodie for the rainy & cool northern California climate.
She says she misses the sun... but, we sure miss them!